The mirror
surface above the head is a rather rare and bold step. This decorator's reception is rarely resorted to in residential premises: too unusual. After all, the mirror multiplies by two absolutely everything: the masterpiece vase from a famous designer, and children's toys scattered everywhere in combination with clothes thrown on the backs of chairs. In other words, the room should be as ceremonial as possible so that the mirrored ceiling emphasizes precisely these qualities, rather than reflecting every second little unsightly everyday things that would be worth hiding. Here are the types of mirrored ceilings:
1. Classic method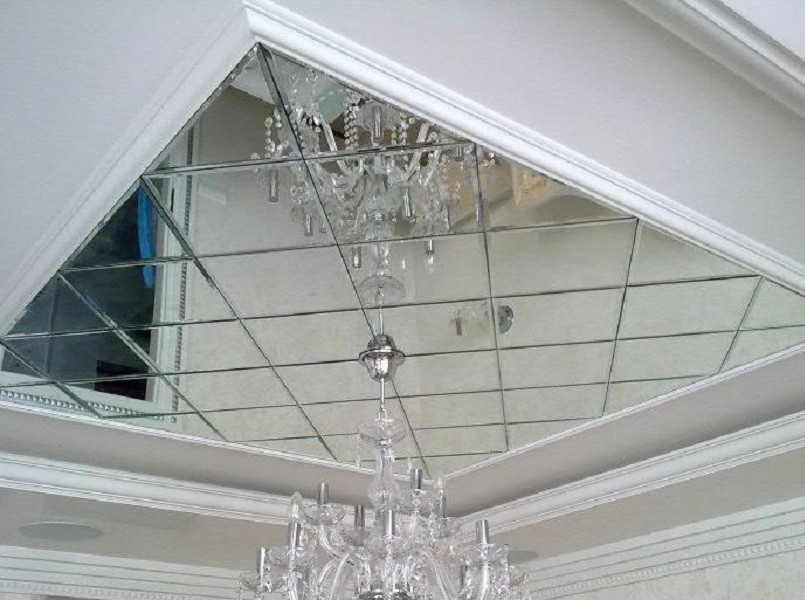 Mirror ceiling
The ceiling of these
mirrors
is perhaps the most beautiful, and is still an unsurpassed reflector. However, it is also the most expensive and yet dangerous. Mirrors - a heavy and fragile material at the same time, unfair or unprofessional installation can cause a tragedy. Installation of a glass mirror ceiling is usually carried out by specialists - and it is up to them to decide which method of installation is preferable: glue or screws, or even a powerful metal suspended structure, on which mirrors are fixed in turn.
2. Polystyrene mirror plates
Mirror ceiling
Restrictions for this type of
mirrored ceiling
- do not use it in wet areas: bathrooms and kitchens. Since polystyrene plates are sold in rolls, they will have to be leveled before installation - you can simply roll out and leave to complete straightening, and you can speed up the process with a uniformly distributed load. The reverse glue side will allow you to glue the plates even on ordinary plaster - if the ceiling in your apartment is flat and allows you to do this without prior alignment with the help of drywall. In order to remove air bubbles from under the stove, when gluing it is most convenient to use a rubber roller. It should also be remembered that in case of sticking polystyrene plates, when choosing a ceiling light, it is necessary to avoid halogen lamps or lamps of too high power - from the heat such coating can be deformed. The undoubted advantage of this method: to mount such a ceiling at home is quite possible and independently.
3. Stretch mirror ceilings.
Mirror ceiling
In this case, a special PVC film is used for the reflecting mirror effect. It imitates the mirror quite well, but the reflection, of course, turns out to be a more blurred, indistinct. But such a ceiling offers all the advantages of a stretch: firstly, it can be used in wet rooms. Secondly, such a ceiling is completely safe. The ceiling will also be a good defense in the event that a neighbor from above comes to mind to flood you, as it can withstand pressures up to 100 liters per square meter. m. In addition, he successfully solves the problem with an uneven ceiling or skewed lines of the joint.